Shoppe Pro is proud to now offer a cost effective SSL solution for your websites hosted with Shoppe Pro. For only $2.50 per month (billable based on your billing cycle) you can now have a secure site with HTTPS:// links. 

IMPORTANT: Site Builder requires version 2.8 or newer. An upgrade will be performed as part of the SSL installation if needed. You can check your version at the bottom of your admin login screen. We'll do our best to ensure your site isn't affected with an upgrade, if needed.
Note: This option is not yet available for our Ultimate package. No refunds will be issued for SSLs purchased prior to this announcement. If you wish to take advantage of the new pricing, please open a support ticket to request the change PRIOR to the renewal of your current SSL.

How to Upgrade
Log into your client account at HERE

1: Select Services> My Services

2: Click the green Active button for your site.



3: Click Upgrade/Downgrade on the left.

4: Select the SSL version of your current plan (Starter or Professional) - SETUP FEE WILL NOT APPLY AT CHECKOUT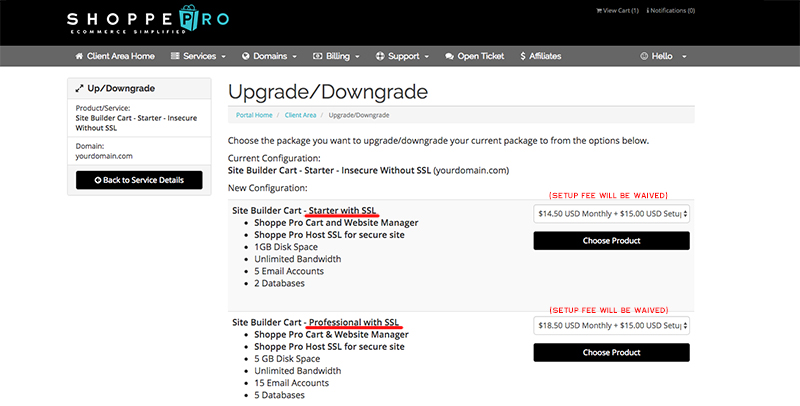 5. Proceed to checkout where you will see the setup fee has been waived and you are prorated in for the difference of the remainder of your billing cycle.
Please allow 24-48 hours for the SSL to be installed as we may need to update your software. You will receive an email confirmation when your SSL install has been completed.