In this article, we will show you how to change your email account's password through cPanel.
1) Login to cPanel
2) Click Email Accounts from the email section of the panel.
3) Click the Change Password button for the email account you wish to edit.
4) Enter the new password you wish to use. Once the new password has been entered, click change password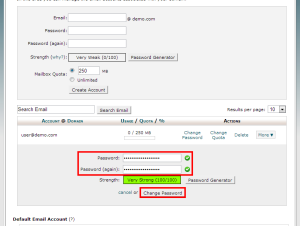 That's it! You now know how to change your email account password. Please keep in mind that if you have any email clients that connect to this email account, you will be prompted to enter the new password.